Those Unforgettable Black Rims - 2016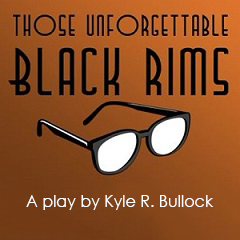 Sept 30 – Oct 2, 2016
Fri & Sat – 7:30 pm, Sun – 2:30 pm
ENMU-Roswell Performing Arts Center
Rated: G
THOSE UNFORGETTABLE BLACK RIMS
A play about the foundation of family – based on the life of Pat Marie Hobbs-Bullock
Written by KYLE R. BULLOCK
THOSE UNFORGETTABLE BLACK RIMS is presented through special arrangement with the author/owner, Kyle R. Bullock.
---
Playwright and Roswell-native, Kyle Bullock, delivers a heart-warming and inspiring play based on the life of his grandmother, Pat Marie Hobbs-Bullock.  THOSE UNFORGETTABLE BLACK RIMS was originally written by Mr. Bullock in college and was successfully staged in Lubbock, TX.  In 2012, the play won the Cordell Green Playwritting Festival.
She's born and raised in a small-town in the Midwest – but don't let that fool you! Virginia Archer has wisdom beyond her simple roots and shows us that love is life's greatest adventure. Follow one woman's life, her impact on the people around her and a legacy that crosses generations.